Discover more from The Racquet
Go deeper into, and get smarter about, tennis. Match analysis and the future of the sport.
There are lots of images/GIFS in 'The Racquet' so it may take a while to load depending on your wifi/4g. I promise it's worth it 😅.
---
RESULTS 🎾
💥 = Beatdown \\ 🤕 = Injury \\ ‼️ = Upset \\ 🤯 = Epic
---
Featured Matches
— Nadal d Medvedev: 7-5, 6-3, 5-7, 4-6, 6-4 🤯
I highly recommend trying to find an HD version of longer highlights.
Match Report: Good lord, where to even begin. 4 hours and 49 minutes of madness.

The first two sets were a free-to-attend Rafael Nadal clinic on how to play a counterpuncher. The last three (i.e Medvedev's comeback) were the Russian's equally good value seminar on how to play the biggest match of one's life, and give off the impression that you don't understand the meaning of the word 'lose' (and look like an expressionless assassin while doing so). That Nadal somehow overcame one of the greatest clutch performances we've seen in recent years, from the loser in a slam final, in the form of Medvedev's 3rd, 4th and 5th sets, is yet another reminder of the mental behemoth that is Rafael Nadal.

🎾The Nadal Show: Firstly let's talk quickly about sets 1, 2 and half of set 3. Nadal was by far the better player for the first two hours of the contest, in the process building a two sets and a break lead (3*-2 in the 3rd). The Spaniard put on a masterclass of spin/height variety, and net rushing, to disrupt Medvedev's rhythm, and capitalise on the Russian's incredibly deep court position. It worked a treat, with Nadal winning 20/25 net points with clever approaches and volleys, many of which were set up thanks to a slice coaxing an attackable ball off the Medvedev racquet. Rafa had actually started the match rather slow, going down an early break in set 1, thanks to some errant forehand shanks from the Spaniard. 📊But Nadal made an effective adjustment, spending the rest of set 1, and all of two, 40% inside the baseline compared to just 15% in the first 5 games of the match. Simply, when Nadal was aggressive, he was cruising.

🎾 The Turning Point: But then it all changed. With Nadal serving up a break, at 3*-2 in the 3rd set, the Spaniard had a very uncharacteristic lapse. He hit a backhand unforced error for 0-15, and then a double fault for 15-40. The Spaniard managed to claw himself back to deuce with excellent net play and serve and volleying, but then missed a completely routine smash to bring up another BP for Meddy. That miss changed everything. Down BP at AD, Nadal committed another tight backhand error, and all of a sudden the feeling of the match changed. It's very rare for momentum to swing so violently towards an opponent who is 2 sets to love down, but this was one of those instances:
— The missed smash. If Nadal were to hit 100 of these in practice I doubt he'd miss a single one. (Eurosport)

All of a sudden Medvedev had belief. He started hitting his forehand 3mph bigger, and his backhand a staggering 7mph bigger, after he was 2-3* down (than before).

Nadal still looked the marginally better player, but he was no longer looking in control. The comeback by Medvedev was on, but it wasn't yet solidified. That is until the Russian started a long procession of incredibly clutch tennis down break point (and down 15-30 and at 30-30 on serve). Meddy saved two BP's at 4-4, the first with a huge 1-2 punch, and the 2nd with another Nadal smash miss after a gruelling baseline rally. The Russian then successfully served and volleyed his way out of the game. Even more impressively, a few games later with Nadal serving to stay in the set at 5*-6, Medvedev actually out-baselined his opponent. To the point where Nadal was so evidently exhausted that he was giving up on previously make-able forehands. Medvedev played 4 perfect baseline points, crushing forehands and backhands, to take the 3rd set.

The 4th set featured more of the same. Medvedev gaining momentum, and somehow looking the physically stronger of the two. Nadal looking tired, tight and frustrated at how this was all unfolding. The Spaniard made some nice adjustments on return, stepping in a bit closer to the baseline on 1st serve return to take time away from Medvedev's big 2nd shot, or serve and volley. The changes were the right ones but they didn't come off, with Medvedev usually serving absolute bombs to get himself out of sticky situations. Nadal was starting to look like the man who thought this match may get away from him. The Spaniard missed a pretty routine 2nd serve return while holding a BP at 2-2. He then played a very passive point with another BP (at AD) a couple of points later. Nadal, for once, was tight in the big points, and Medvedev could clearly sense it (Rafa at this point was just 4/16 on BP's). The Russian's new found aggression, courtesy of a more offensive court position, was capitalising on anything remotely short coming from Nadal's end.

And then, the 2nd Rafa collapse occurred, once again while serving to stay in the set (this time at 4*-5). The Spaniard was 40-15 up, on serve, but threw in two very tight, and very loose, forehand unforced errors (the 1st of which was a routine 1-2 punch with most of the court open). This clearly gave Medvedev hope, alongside a set point opening, because the Russian played an absolutely stunning backhand return winner to steal the game and take the match to a decider. Nadal, and the crowd, were stunned:
— What an awesome way to take the match to a 5th set. Incredible.

🎾 The 5th: All the momentum was with Medvedev now. He had won sets 3 and 4 while serving first (Nadal served first in sets 1 and 2), and earned that right again for the 5th set thanks to that incredible break of serve at the end of set 4. The Russian was providing those watching with the very definition of redlining. His groundstrokes were huge, his serving bigger than ever, and his serve and volleying completely and utterly suffocated any momentum Nadal sought to build on return. Medvedev was, unquestionably, the better player at the end of the 4th and start of the 5th.

Nadal was immediately under the cosh, facing three BP's at 0*-1. Medvedev was on fire, drilling a backhand return winner cross court (for 0-30) that defied logic and physics, and looking like nothing would stop the completion of his comeback. But, this is when Rafa started to show signs of stopping the bleeding. The Spaniard saved the 1st BP with a brilliant serve and half-volley. The 2nd with a series of crushing, deep forehands. And the third (after a time violation cost him his 1st serve) with a wonderful forehand 1-2 punch. That may well have been the most important game of the match.

After another game of Medvedev absolutely crushing 1st serves (at 1-1), giving Nadal little chance on return, the Spaniard's opening finally came. At 2-2, Medvedev found his way to a 40-0 lead while serving. But Nadal's adjustment of taking his returns a bit earlier started paying off, pegging Meddy back to deuce with a series of aggressive returns and deep follow up slices to the Medvedev backhand. The Russian missed another backhand, off another slice, to set up a BP for Rafa. Medvedev initially stood strong, bombing down another ace to save it. But another series of aggressive forehands from Nadal brought up another BP, and this time the Spaniard took his chance. Rafa played his most aggressive BP of the match, finishing with a huge backhand winner (after a gruelling rally) to breakthrough Medvedev's serve for the first time since the start of set 3. The floodgates then appeared to open, as Nadal grabbed a double break with two ludicrously good returns of serve at 2*-4. Now 5*-2, with Rafa serving for the title.

Goodnight… right?

"Nyet" Medvedev bellowed. The Russian simply did not know how to lay down and lose.

Rafa played yet another tight game at the tail end of a set. This time double faulting to go down 0-15, hitting a backhand UE for 30-40, and then double faulting *again* (after losing another 1st serve because of a time violation) to lose one of the breaks. Medvedev at this point was playing out of his mind, clearly buoyed by more signs of Nadal weakness. The Russian faced two championship points serving at 3*-5, saving the first with as good a 1-2 backhand punch as you'll ever see, and the second with an ace. A few more aces down the T, and yet more effective serve and volley, and Medvedev would hold to force Nadal to try and serve it out again. 5*-4.

One final chance for Nadal. 5*-4:

Rafa starts the game poorly, missing his first three 1st serves and finding himself in a 15-30 hole that must have looked all too familiar.

Another, very tight, Nadal forehand unforced error for 30-40 and BP.

Nadal, still missing 1st serves, finds a huge forehand on the back of his 2nd serve. Saves BP. This point was dripping with tension. That forehand took serious guts.

Nadal brings up his 3rd championship point with a 1-2 drop-shot punch.

Nadal finally converts with a huge, un-returnable 1st serve. 🏆

An absolutely unreal performance, in quite different ways, by both players.
—

🇷🇺 Firstly, Medvedev. The Russian displayed more heart, physical and mental strength, and adaptability than anyone would have given him credit for before this match. What he managed to do to Nadal from set 3 onwards, is a feat accomplished by no one in slam final history. No other challenger has made Nadal look that fragile from two sets and a break up in a title match. Perhaps most impressive of all, was the Russian's willingness to not only go toe to toe with Nadal from the baseline, but mix in a rather janky, but incredibly effective, net game. Meddy's serve and volley in set 4, and the first chunk of play in set 5, was frankly unplayable. Nadal was trying everything he could on return to make a dent, and nothing worked. Medvedev was soundly the better player during that period.

Medvedev breaking away from the 'Next Gen' pack is not something many would have predicted when he played the NextGen finals back in 2017. But he is currently *streets* ahead of anyone else in that age bracket. The mental strength & flexibility of strategy he displayed tonight was truly outstanding. He proved he can mix up his tennis, and do so against the very best, on the biggest stage. A coming of age, this certainly was.

🇪🇸For Nadal, this was probably most remarkable because he found a way to win despite battling himself for large periods of the 3rd, 4th & 5th sets. His forehand came up incredibly clutch, late in the closing stages, but that shot was costing him dearly in set 4 and the early-mid 5th set. The Spaniard was having serious trouble finding the requisite depth and penetration to trouble the brick wall across the net, and his forehand down the line wasn't its usual devastating weapon. Indeed, Nadal was struggling so badly to hit his forehand down the line with enough proximity to the sideline, that Medvedev was winning the vast majority of exchanges where Nadal managed to hit that shot. Meddy's forehand cross court defence, off that down the line forehand, was stunning in the latter stages of the match.

That Rafa managed to keep it all together in the 5th set, despite rather obviously squandering his two set lead, speaks volumes (to be added to already existing overflowing library) of his crunch-time mental strength. Nadal beat an opponent who played the match of his life. A player who seemed to genuinely believe he couldn't lose. One of Rafa's sweetest victories, in an already glittering career.

📊 Between them the two players combined for 140 net points (winning 101/140).

The total points won tonight stood at 341.

That makes 41% (!) of the total points of the match featuring net play.

The above means that this final will go down as the 2nd most volley-friendly slam final in the past decade (only the 2016 Wimbledon final, Murray d Raonic with 50% net points, trumps it). For context, this years Wimbledon final featured 24% net points, or 17% less than tonight.)

Not only is this a brilliant advert for the versatility of both players (Nadal winning 77% of his net points and Medvedev 68%), but it's a fascinating insight into what both felt they needed to do to make the other uncomfortable. I wrote in my pre-match prediction that both players will mix in serve and volley, and general net rushing, into their games, but that this would be a smaller departure from Nadal's comfort zone than Medvedev's. This turned out to be decisively true in the 5th set, but only by the narrowest of margins. As it turns out, the limits of Medvedev's comfort zone were underestimated by me, and many others. The Russian really does have it all, even it if that 'all' looks rather lanky and discombobulated at times.

Another perfect advert for best of 5 set tennis. Long may it continue.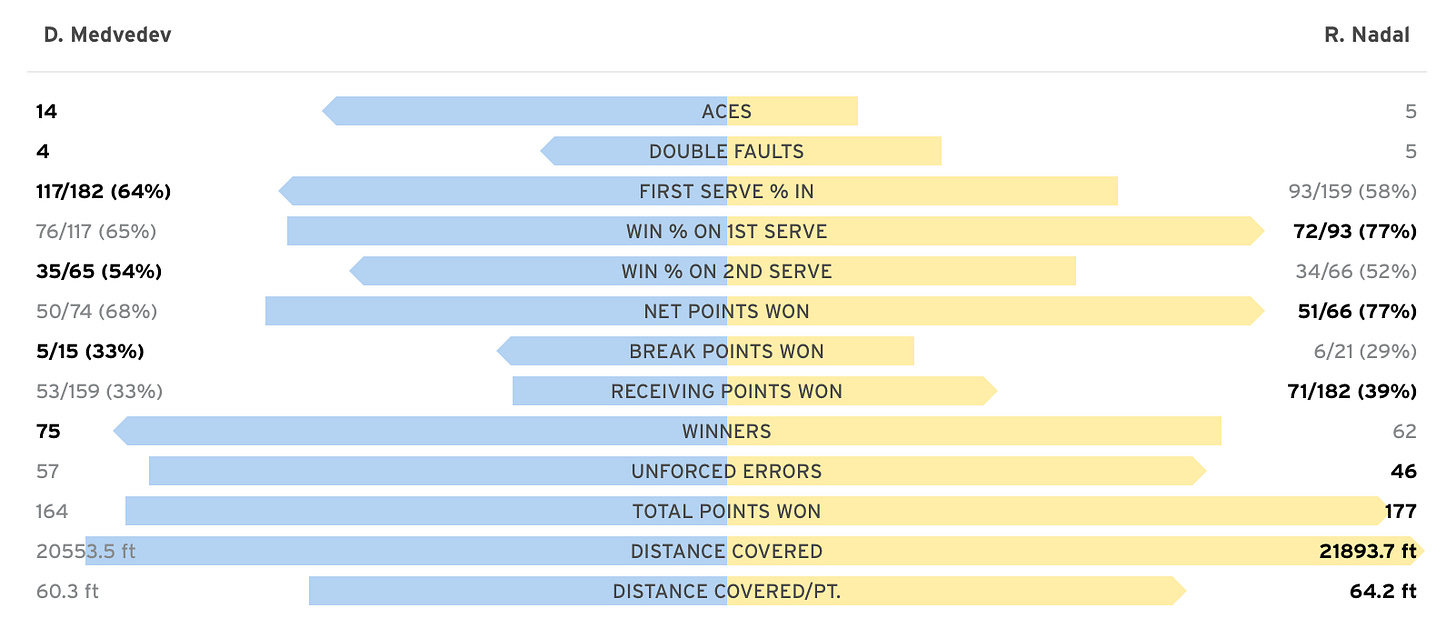 — Two warriors. Nothing but respect.
---
SHOTS OF THE DAY 😮
---
— Nadal casually starting off the match with an around the net post winner. On the 2nd point. Ridiculous. (Eurosport)
— Another angle:
---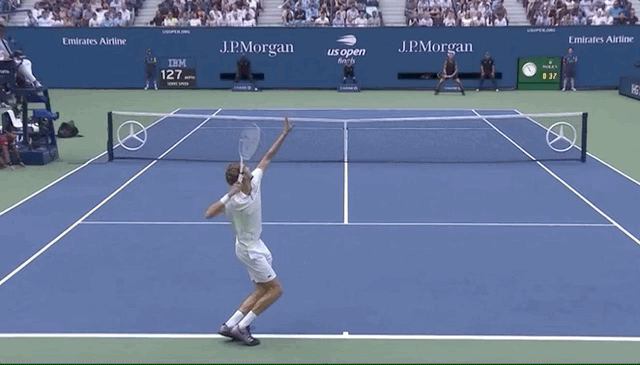 — Medvedev saving an early BP with serve and volley. Not for the first time. (Eurosport)
---
— Nadal working the angles brilliantly here to create space to hit into. Medvedev much less comfortable moving laterally *and* forward, rather than just laterally. (Eurosport)
---
— This is a great point to highlight the problem Nadal had with his forehand down the line. He was regularly hitting that shot where you see it land here (far away from the side line). And Medvedev was regularly cleaning up with that hooked forehand into the open space. (Eurosport)
---
— Nadal making, what was a quite rare today, forehand down the line winner. (Eurosport)
---
— Nice contrasting ball trajectories here. Nadal's defensive loop, and Medvedev's offensive, pancake-flat bullet. (Eurosport)
---
— Medvedev playing a near flawless game to take the 3rd set. Phenomenal tennis. (Eurosport)
---
— The backhand return that defied all logic and physics. Medvedev hitting a perfectly clean, completely flat return winner, from way out of court, against Nadal who was already in that forehand corner. This was the game in which Nadal held despite facing 2 BP's. Huge. (Eurosport)
---
— Medvedev on fire at the net. (Eurosport)
---
— Some of the tennis in the 5th set was comically good. Many of these shots came at the end of 30+ shot rallies. (Eurosport)
---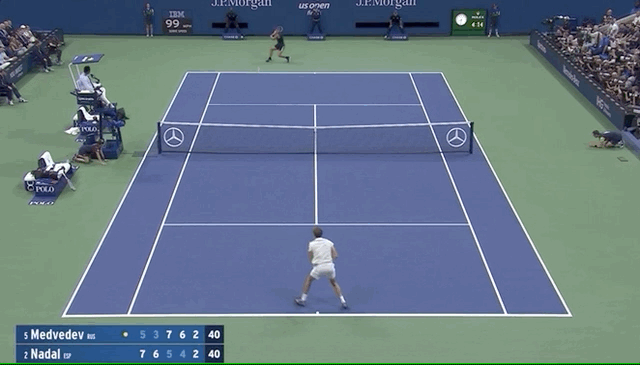 — This isn't a hot shot, but I wanted to include it to show Nadal's main slice strategy tonight. Medvedev actually dealt with these low backhand slices really well for the most part. But as the match approached its crescendo, you could tell the Russian's legs were starting to find it tough work to get down low for these. This set up the BP's for Nadal at 2-2. (Eurosport)
---
— Nadal finding a miracle return lob, and then following up with the perfect drop shot. This set up a BP for the double break (which Nadal needed desperately in the end!). (Eurosport)
---
INTERVIEW/PRESSER BEST BITS🎤
---
Medvedev trophy ceremony:
"When I was looking on the screen and they show Rafa win #1, #2, #19 I thought, 'If I would win, what would they show?"
It's worth watching (Medvedev comes across very well, and was very humble in defeat):
Meddy's full presser:
---
Nadal Full Presser:
Nadal Trophy Ceremony:
---
EXTRAS 🔍📊🎤
---
— Two very contrasting styles. Nadal with his customary sprinting to the baseline to start the warm-up. Meddy casually strolling.
---
— Nadal is the oldest men's US Open champion in 49 years.
---
---
— Nadal wins his 19th Slam title (one behind Federer).
— Nadal wins his 4th US Open title (only behind Federer, Sampras and Conners with 5)
— Nadal, off clay, now has the same number of slam titles as McEnroe and Wilander won in their entire career (7).
---
— Medvedev was right when he said, post loss to Nadal in Montreal, that he'd do better next time. He adapted his court position brilliantly, especially in the latter sets, becoming significantly more offensive than in their previous match. This contributed to him looking unbeatable for parts of the 4th and 5th sets.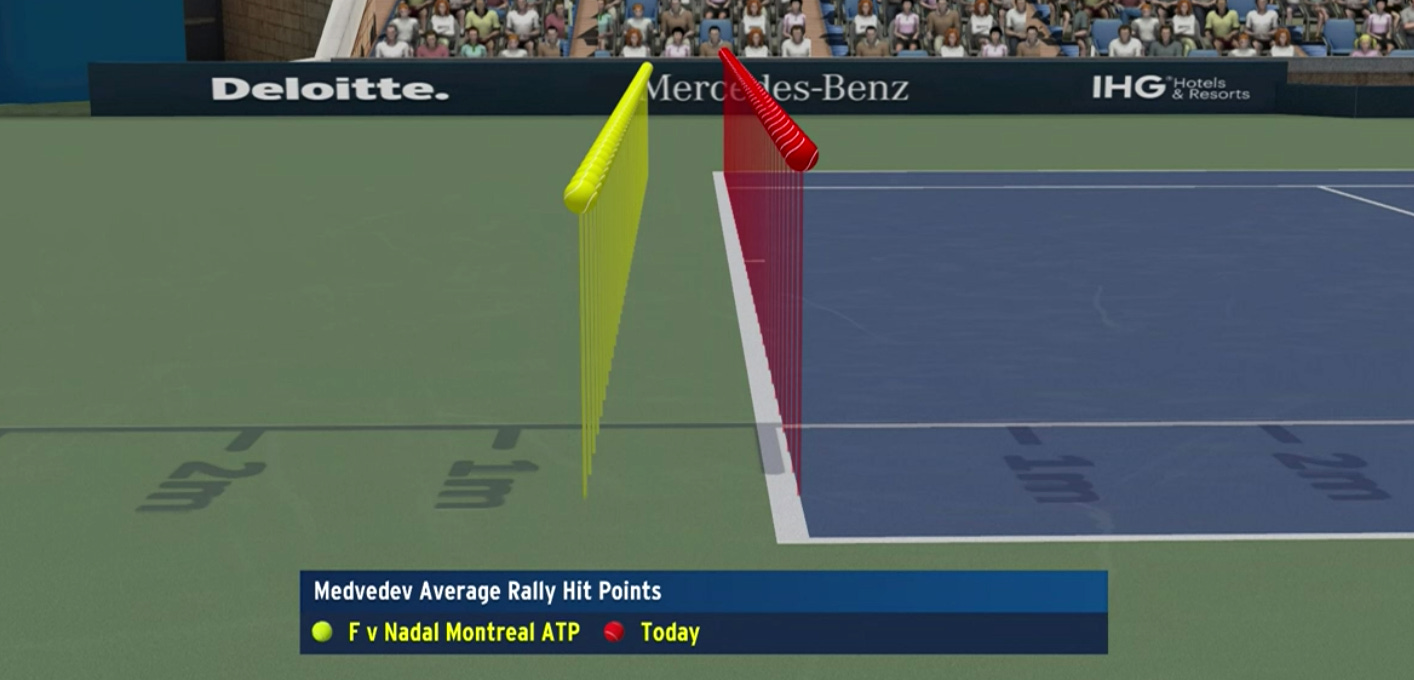 ---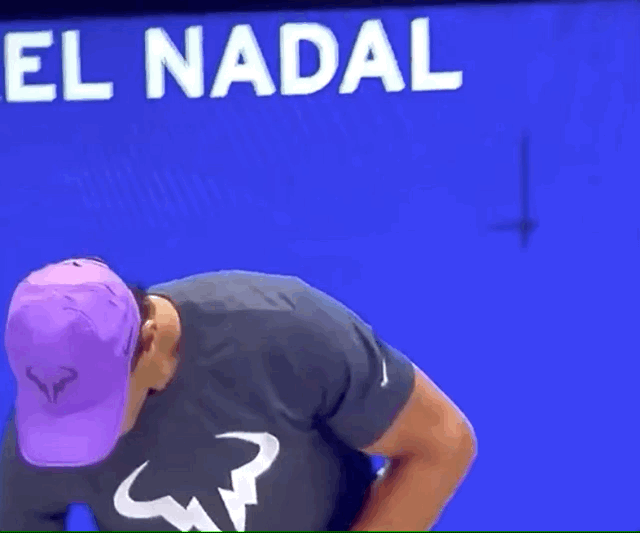 — That match will have certainly taken its toll on Nadal. Credit to @troublefault for this video.
---
NEW BALLS PLEASE 👀
---
---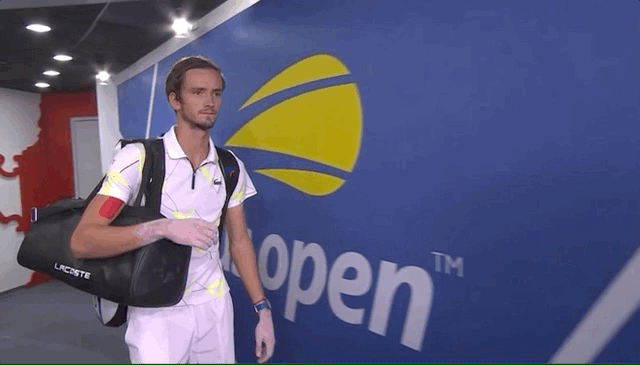 — Medvedev clearly prepped for the match by handmashing a chalkbag.
---
---
---
Medvedev looked super-humbled when he was given an extended ovation by the crowd. But he slipped in a wee bit of trolling just for good measure: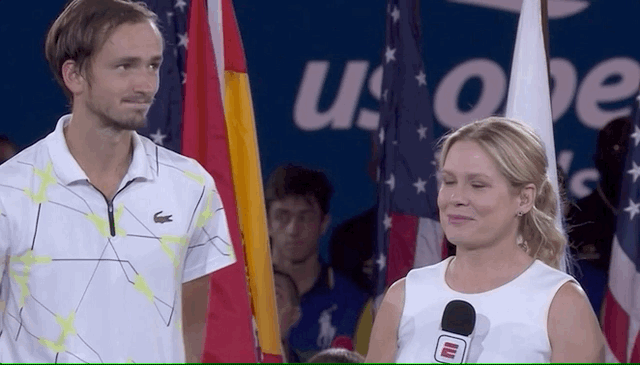 ---
— The Nadal box on championship point.
---
— Slam title No19. Still looks like it means just as much to him as No.1.
---
— Your 2019 US Open Champion.
---
I hope you've enjoyed The Racquet's Montreal, Cincinnati and US Open coverage. It's been a blast to make.

Feel free to comment below, or reach out on Twitter with any questions or comments.

✌️Matt
---
GAME, SET, MATCH 👋
---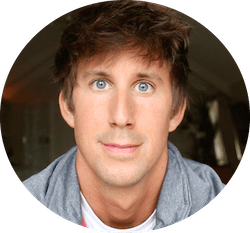 — The Racquet is created, and written, by Matt.
— You can find me on Twitter here, and Instagram here.
See you next week!