Racquet Recap 🎾 Wimbledon Final
Djokovic vs Federer No. 48 🏆, The Longest Final In Wimbledon History🤯 Federer's Slice Into Djokovic's Backhand📊, Shots Of The Final🔥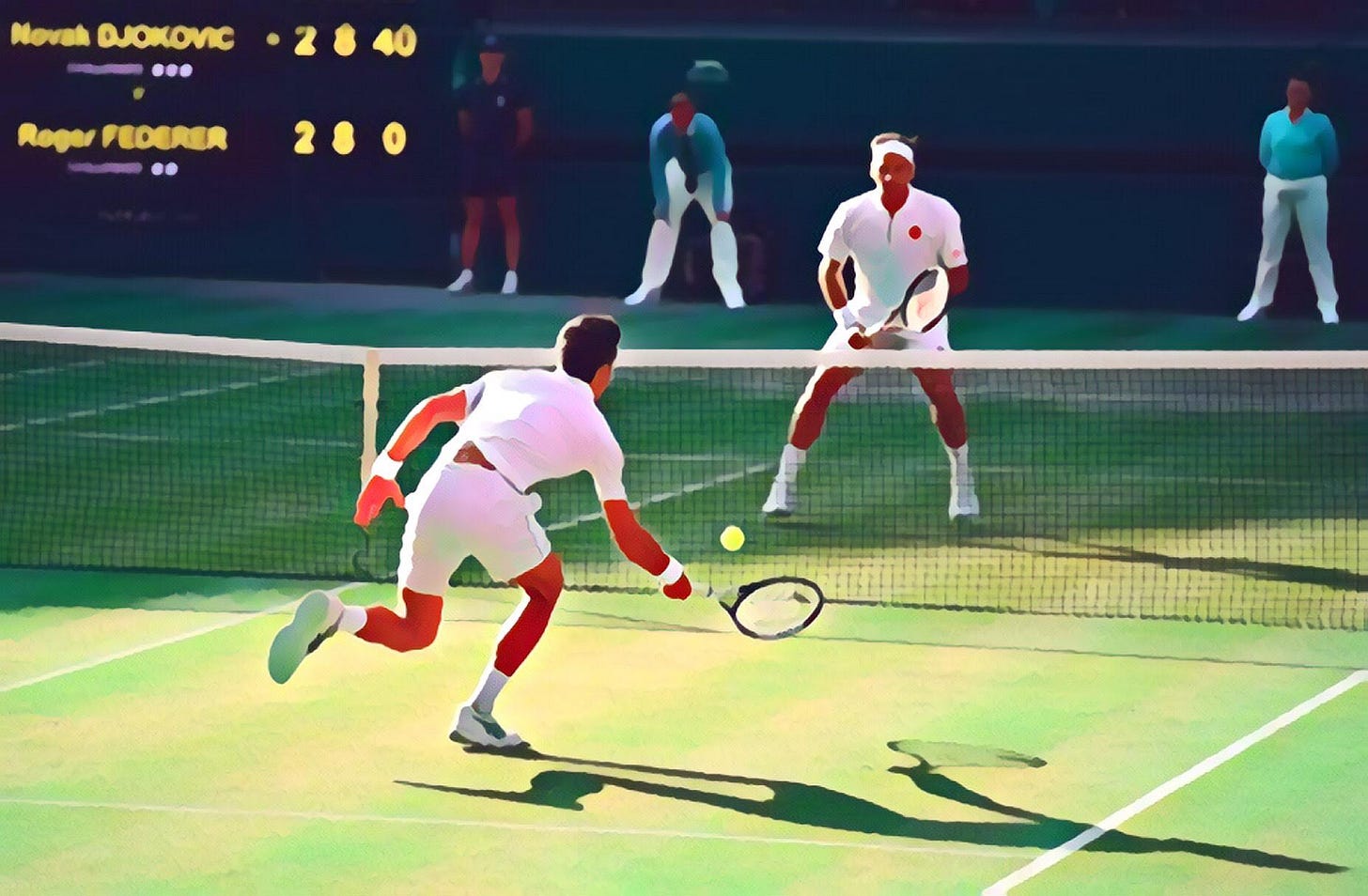 There are lots of images/GIFS in 'The Racquet' so it may take a while to load depending on your wifi/4g. I promise it's worth it 😅.
---
RESULTS 🎾
💥 = Beatdown \\ 🤕 = Injury \\ ‼️ = Upset \\ 🤯 = Epic
---
Djokovic d Federer: 7-6(5), 1-6, 7-6(4), 4-6, 13-12(3) 🤯
TL;DW: The longest Wimbledon mens final in history, coming in at 4hrs and 57 minutes (beating the 2008 final by 9 minutes), and the first match to use the 12-12 deciding set tiebreaker (in its first year of implementation).

Boy oh boy oh boy, where to start. This was not among the highest quality of Wimbledon finals. It's ebb and flow was usually reliant on one of the players failing or erring rather than succeeding or winner-ing (with a few notable exceptions). But holy moly was it chock full of drama.

Federer held a 5*-3 lead in the 1st set tiebreaker, and lost the set. Held a set point at 5-4* in the third, and lost the set. And finally the Swiss held two championship points at 8*-7 in the 5th, both on serve, and lost the set/match. This will go down as one of the most, if not 'the' most, brutal losses of Federer's career given his chances. But as the dust clears in the aftermath of this, at times bizarre, 5 hour battle, it becomes apparent how utterly and mind-bendingly clutch Novak Djokovic was on the biggest points, during the biggest moments.

Firstly, the basic stats. These completely fail to tell the story, but are a timeless reminder that not all points are equal in tennis.

Total points won:

Roger Federer: 218

Novak Djokovic: 204

Winners/Unforced errors:

Roger Federer: 94/61

Novak Djokovic: 54/52

Break points faced in first 4 sets:

Roger Federer: 2 (both in 4th set)

This report will focus on the key moments, because breaking down the whole match would take longer than a Simon vs Monfils rally being played in a swamp. Sets 2 and 4 were cases of Djokovic's level falling off a cliff after winning the long and arduous sets 1 and 3. Federer was by far the better player in both (sets 2 and 4), with the Swiss looking impressive.

Sets 1, 3 and 5 were the interesting ones:

— Set 1 Tiebreaker:

Federer could probably have been up 3*-0 to start the breaker, but an unforced error and some crazy Djokovic defence kept Novak on serve. Federer then loses the initial mini-break but gets it back with a backhand down the line. The Swiss then wins two points in a row, grabbing his own mini-break advantage with an impressive forehand pass. 5*-3 Federer. But Fed then loses 3 points in a row after a bad miss with the forehand on an attempted 1-2 punch, some great Djokovic returning, and finally a Federer backhand error. Djokovic gladly serves it out. This was case numero uno of Federer holding the significant chances to take the set, but not converting. Djokovic's backhand was solid when it mattered (also a recurring theme).

— Set 3:

Neither player put in a good innings on return for most of this set, with a bunch of *mostly* routine service games being the norm until 5-4* with Djokovic serving. At this point Federer played a wonderful half-volley to bring up set point:

— The defensive slice was genius from Djokovic, right onto Federer's shoelaces, but Fed still deals with it. Brings up set point for Federer. (BBC)

But Djokovic came up with some really impressive serving to not only save the set point, but to bring up game point (which he converts to hold for 5-5). Body serves saved Novak's bacon (another recurring theme today). Into another tiebreaker and Federer falls apart and Djokovic raises his game once again. A Federer backhand shank gives Novak the first mini-break, and Djokovic opens up a 3-0 lead with some brilliant backhand resilience. Another backhand show of strength from Novak gets him to 5*-1, but Federer then fights back, pegging the score back to 5*-4 with much better tennis (getting one of the mini-breaks back). However, with a bit of momentum, and Djokovic's first serve failing him, Federer couldn't take advantage. Novak sends in his slowest 2nd serve of the day (at 5*-4), and Federer is very much in the point, but the Swiss commits a bad unforced error with a slice backhand. That was Federer's key opportunity to get back in the breaker, and Djokovic gladly accepted the error and took a two sets to one lead. Djokovic's backhand was superb all tiebreaker long, once again.

— Set 5:

Good lord what a set. This decider featured a mixture of the sublime and the terrible, with both players guilty of not doing anywhere near enough with 2nd serve returns when up 0-15, 15-30, 0-30 and 30-30 in their opponents service games. Time after time each player would get in a hole on serve, and time after time their opponent wouldn't punish them by returning poorly. If you'd like to watch these moments they happened at: 1*-2, 2*-3, 4*-2, 3*-4, 5*-6 and 10-10. First Djokovic broke for 4*-2, after Federer couldn't find his first serve and Djokovic hit a nice backhand pass off a poor Federer approach. And Federer then broke straight back thanks to a Djokovic double fault and also a lack of 1st serves. More missed opportunities followed, before Djokovic had to pull off a pseudo-diving volley at 15-30, 5-5, followed by some clutch serving and baselining to get out of trouble. Novak then had his most glaring 2nd serve return miss, at 15-30 with Federer serving at 5*-6. Let off's left right and centre for both players. Federer then finally takes one of his half-chances bringing up break point with Djokovic serving at 7-7 thanks to some wild Novak misses. A forehand pass from Federer converts the chance and the Swiss would serve for the championship at 8*-7. Fed then sets up 40-15, holding two championship points on serve. The first, Federer misses with his forehand after a good Djokovic return. The second, Fed approaches, quite short, to the Djokovic forehand, and is passed (with a shot that looks like the one Novak hit vs Nadal in last years semi-final). Two championship points saved and Djokovic then manages to break Federer with great baselining and returns. 8-8. Four games later, at 10-10, Federer then has 30-30 with Djokovic serving, but once again misses a tame 2nd serve return. The Swiss had more chances two games later at 11-11, setting up two BP's with Novak serving, thanks to some unbelievable forehands (Djokovic by this point looks dead on his feet and can barely run):

— Federer forehand to set up BP at 11-11 in the 5th. Djokovic completely gassed at this point. (BBC)

But once again, Djokovic responds excellently, getting a bit lucky on the first BP with Federer missing a sliced passing shot by an inch, but rushing the net successfully on the 2nd BP and putting away a smash. Clutch. On to the first ever 12-12 tiebreaker (first to 7). And once again, Federer crumbles at crunch-time. An unforced error on an attempted half-volley 1-2 punch from Federer, opens up a 2*-1 lead for Djokovic. And the Serb then gladly accepts another Federer error to move into a 4*-1 lead. Federer grabs one of the mini-breaks back after a Djokovic slip and then holds for 3-4* (just a single mini-break deficit). But once again, the damage was already done for the Swiss, with Djokovic coming up with his best backhand of the match to bring up Championship point, and then converting after a Federer forehand shank. Absolutely nuts decider.

The Matchup Keys:

No bones about it, Federer was the better player for the majority of this match. And the contest pretty much swung back and forth depending on who won the following battle: the Federer cross-court backhand to Djokovic's backhand.

I have never watched Djokovic play, in a match this important, and see him struggle, as badly as he did today, to maintain his footwork intensity (speculation on this below the report). Parts of set 1 (pre-tiebreak), all of set 2, all of set 4, and parts of set 5 all featured Djokovic regularly losing this battle. His footwork looked sluggish and tired in the face of Federer's cutting backhand slice, with this dynamic consistently setting up short balls for Fed or coaxing errors.

— In sets 1, 2, 4 and 5 Djokovic really struggled to find the requisite intensity on his backhand footwork, to deal with Federer's backhand variation. Above👆, Fed's backhand slice coaxes an error.

— Below👇, it coaxes a short, attackable ball or draws Novak in:

However, when Novak needed it most today, in all three tiebreakers, his backhand was exceptional. It was partly responsible for Djokovic's comeback in the first set tiebreaker, was responsible for his lead in the 3rd set breaker, and came up huge once again in the 5th set tiebreaker. TL;DR, the Djokovic backhand and its accompanying footwork were ropey all match long, except for when it really mattered:

— Novak's best backhand of the match to bring up championship points in the 12-12 deciding tiebreaker. Clutch, clutch, clutch. (BBC)
Final thoughts:

This was the worst I have ever seen Novak Djokovic play and still win a slam final. Federer was better in almost ever category apart from important points won, and generally had the tactical advantage over Djokovic with his variation-heavy game. But the Swiss committed some poor unforced errors when it mattered, in all three tiebreaks, and Djokovic, after struggling badly for much of the match, raised his game magnificently.

Remember the basic stats I listed at the top of this report? The ones that failed to tell the story? Here is the one stat that truly mattered today:

Unforced errors in the three tiebreakers (combined:

A brutal loss for Federer, a spectacular houdini-esque win for Djokovic.

Novak moves to 16 Slam titles (2 away from Nadal, 4 from Federer) and 5 Wimbledon titles.

He equals Bjorn Borg's title haul at the All England Club. Let that sink in for a second.
---
Wild speculation corner:
— A few (very) speculative thoughts on Djokovic's performance.
Speculation No.1: Federer's harder path to the final meant that he was sharper coming into this match. Stepping up from from Nadal to Djokovic is significantly less of a leap than Bautista Agut to Federer, meaning Djokovic struggled to make that jump in requisite level.
Speculation No.2: Djokovic's fitness took a significant dive post-Australian Open 2019. I first noticed this in Monte Carlo in his loss vs Medvedev, but assumed it would improve during the clay season. We potentially saw it again at Roland Garros when he looked tired in parts of his Thiem match, and seemed to lose focus as a result. And given how much footwork Novak's backhand requires to successfully deal with Federer's cross court slice, it could explain his severe lapses in backhand form in the 2nd, 4th (and parts of) 5th sets today (after playing long and tiring 1st and 3rd sets).
---
SHOTS OF THE DAY 😮
---
— Federer taking the ball very early, early on. (BBC)
---
— Wonderful first volley from Federer, off a nice, low Djokovic return. (BBC)
---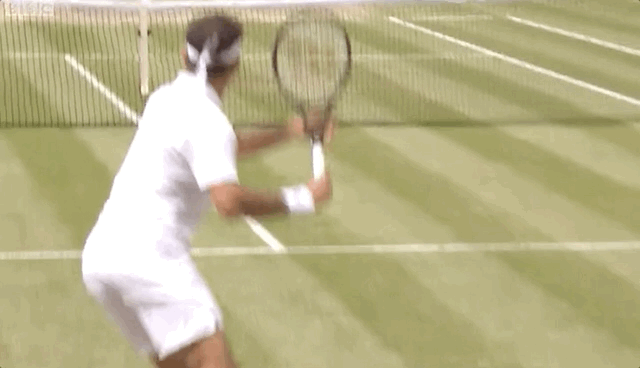 — Djokovic crushes an enormous backhand pass. (BBC)
---
— One of the best drop shots I've seen in a while from Federer. Side-spinning ball just died on the sideline. (BBC)
---
— Awesome inside-in forehand from Federer. (BBC)
---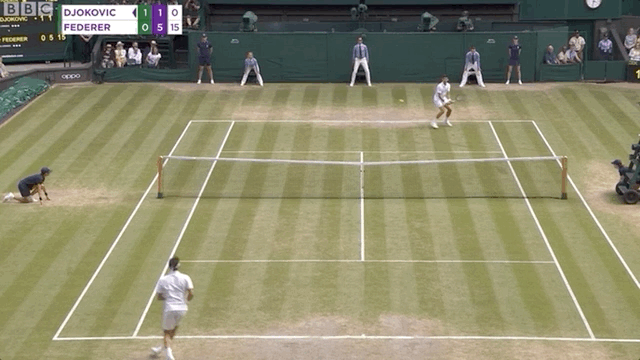 — Federer replying to Djokovic's backhand angle with his own. (BBC)
---
— Federer pass. (BBC)
---
— Stunningly pure backhand from Djokovic. (BBC)
---
— Only Novak can pull this shot off. Sliding forehand, slice drop-shot winner. (BBC)
---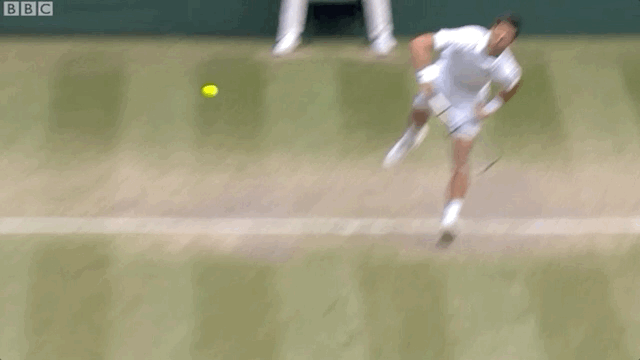 — Brilliant backhand return winner from Fed. (BBC)
---
— Another one. (BBC)
---
— Such great disguise on this drop shot from Federer. Takes a nice big swing at the ball as if it were a normal, deep slice. (BBC)
---
— Such an important point. Djokovic saving himself from 15-40 at 5-5 in the 5th with a pseudo-diving volley. (BBC)
---
— Federer breaks Djokovic with a forehand pass in the 5th set (off a pretty poor approach). (BBC)
---
— Djokovic saving Championship point(!) with the same shot. Again, off a not-ideal approach. (BBC)
---
— Unreal backhand from Djokovic, to bring up championship points of his own. (BBC)
---
INTERVIEW/PRESSER BEST BITS🎤
---
Federer post-loss:
"I take motivation from different places, not from staying ahead in the record of Slams. I broke the record and if someone breaks it again, that's it. I play to perform in front of these crowds, not breaking records."
"Now the defeat hurts, and it should, but I am good at moving on from defeats. It's a mindset and I'm strong at doing that."
"This is gonna take time to recover... physically too."
---
Djokovic post-win:
"I knew the atmosphere would be the way it was. Physically I had the most challenging match in Australia (2012 final) with Nadal, but mentally this was something else."
"On the 2nd serve returns I didn't do a good job, I didn't hit through the ball. I was on the backfoot for most of the match, but I continued to fight."
---
EXTRAS 🔍📊🎤
---
— Federer will not play in Montreal. Next tournament is Cincinnati.
---
---
---
— Moral of the story: do not approach Djokovic's forehand when break point, or championship point, up, deep in a 5th set, at Wimbledon. (BBC)
---
---
— Wonder who the crowd wanted to win…
---
---
NEW BALLS PLEASE 👀
---
— The agony and the ecstasy.
---
— Your 2019 Wimbledon champion. And holder of 4 out of the last 5 Slams.
---
I hope you've enjoyed The Racquet's Wimbledon coverage. What a crazy couple of weeks…

As always, thanks for reading. And remember, if you have any questions or feedback, you can always reach me on Twitter (link at the bottom).

Hamburg and Washington start soon, and the Montreal Masters is only three weeks away!

Matt✌️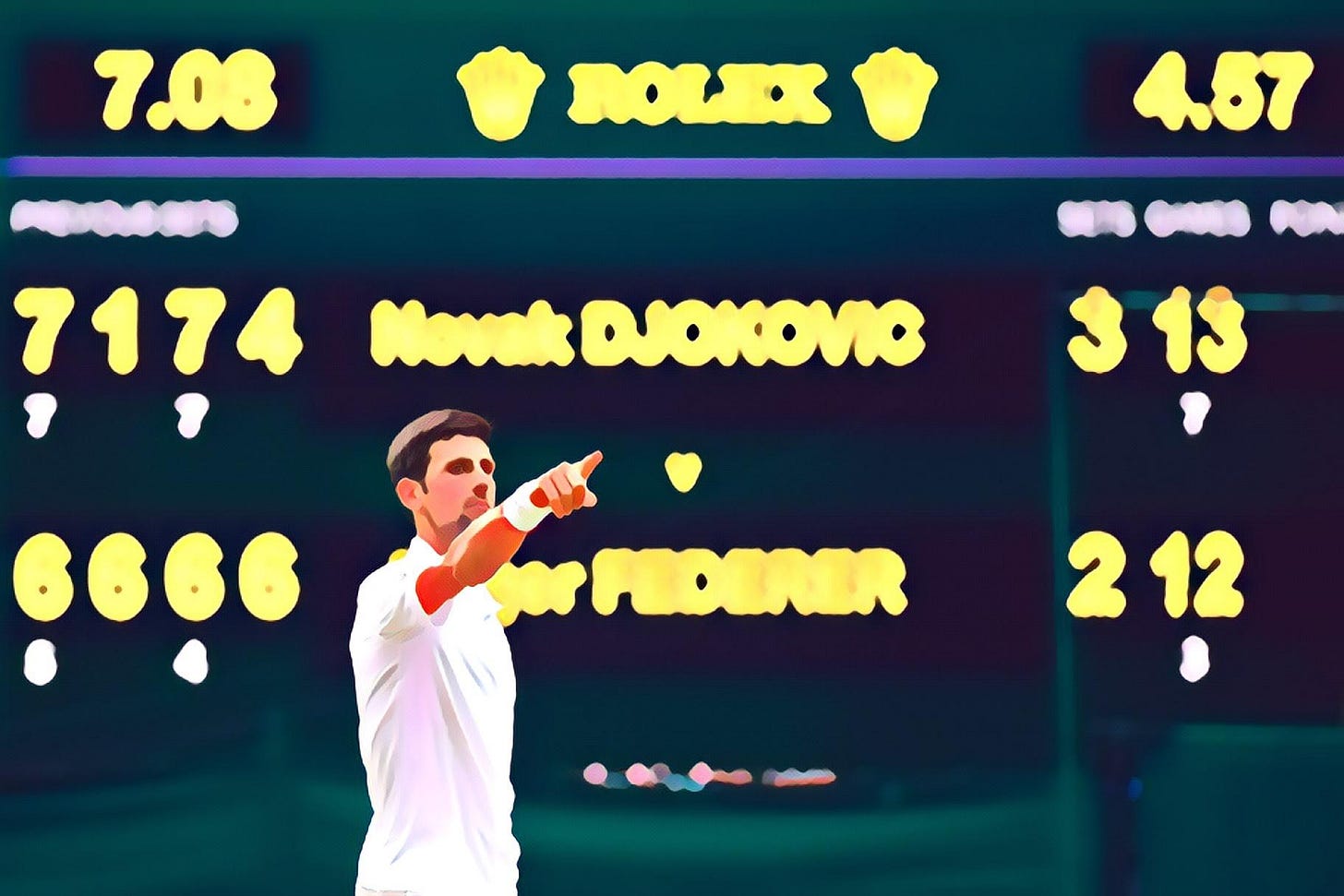 ---
GAME, SET, MATCH 👋
---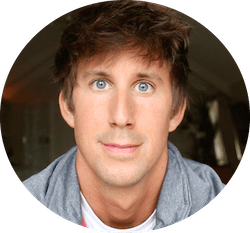 — The Racquet is created, and written, by Matt.
— You can find me on Twitter here.
See you soon.