The 5th Set
A Closer Look At 'That' 5th Set Between Nadal And Medvedev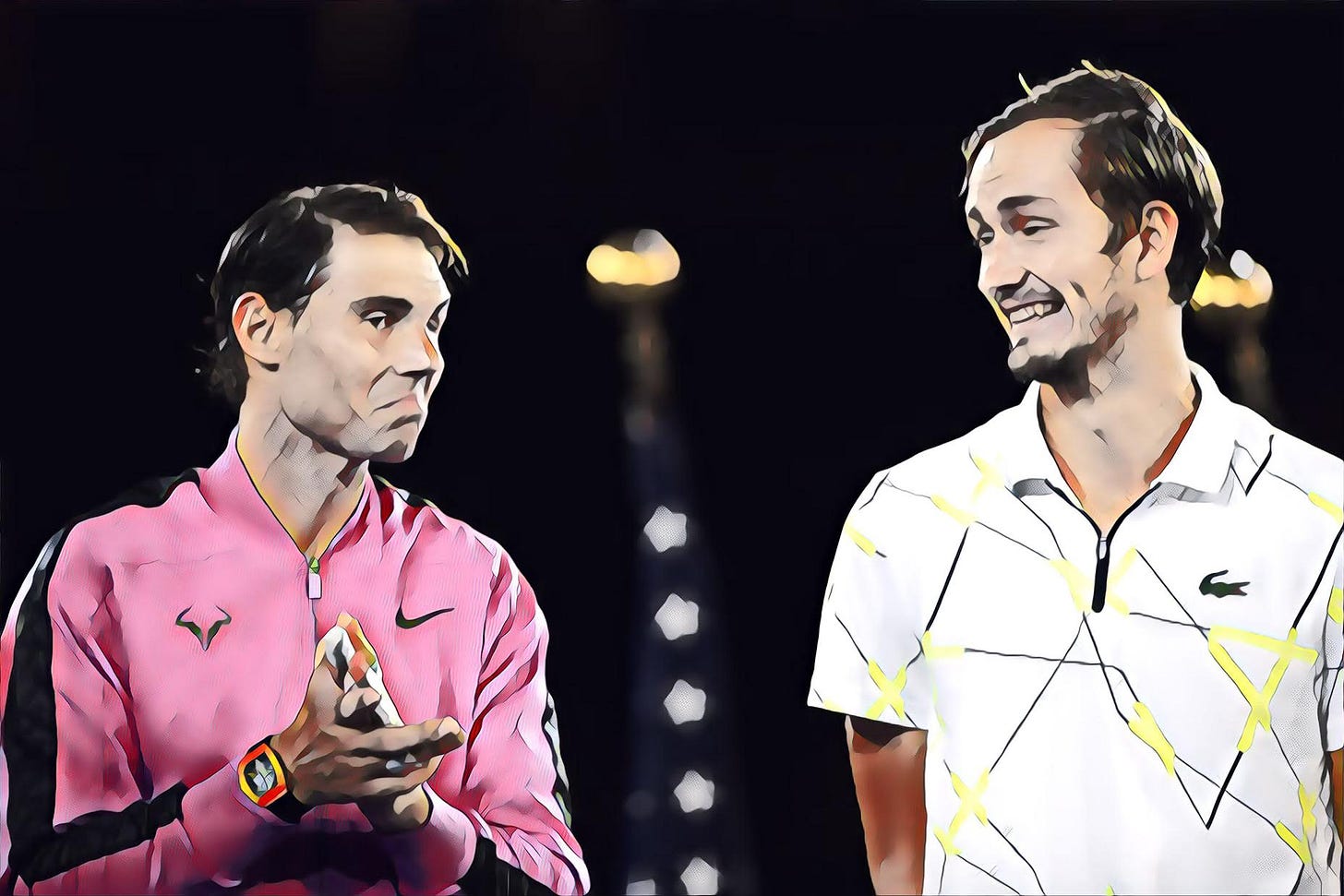 This is a special post-final issue looking a little closer at the decisive 5th set of Sunday's epic US Open Final. And in particular, Nadal's returning performance in the first 7 games.
---
Setting The Scene
Medvedev had just played a stunning return game to break Nadal at the end of the 4th set, converting set point with a backhand down the line (return winner) from way outside the tramlines.
Umpire: "Two sets all, final set."
Medvedev to serve first (he had yet to lose a set [3 & 4] when serving first).
---
0*-0. Medvedev holds easily. Big 1st serves and some huge forehands as his 2nd shot. Nadal unable to get any depth on his returns.
—
Nadal serving at 1-0*.

Backhand unforced error from Nadal for 0-15.

0-15. Medvedev hits an amazing backhand return winner (again) off a (106mph) Nadal 1st serve out wide. 106mph was lower than the majority of Nadal's wide 1st serves on the AD side, and this serve also landed deeper and more central in the box than Nadal would have liked👇
0-30. Nadal serves and volleys (off a 119mph 1st serve out wide to Meddy's forehand) for 15-30.

15-30. Nadal 2nd serve (safe, central 93mph). Neither player with positional advantage until Nadal runs around his backhand to try and play an offensive cross-court forehand. Rafa drops it too central and Medvedev takes control with his forehand, winning the point for 15-40. Two BP's in the Russian's favour👇
15-40 (BP), Nadal lands a first serve (118mph out wide to Medvedev forehand) despite rushing his motion due to the shot clock. Serve and (excellent) half-volley saves the (1st) BP. Clutch.

30-40 (BP), Nadal lands a first serve (110mph out wide to Medvedev backhand). Medvedev returns well off the backhand, similar to his return winner for 0-30, but not as powerful in the face of a bigger, and more angled, Nadal serve (110mph compared to 106mph). Nadal hits a good forehand down the line, and then retains positional advantage with a line-licking backhand, forcing an error from Medvedev. Again, brilliant under pressure:👇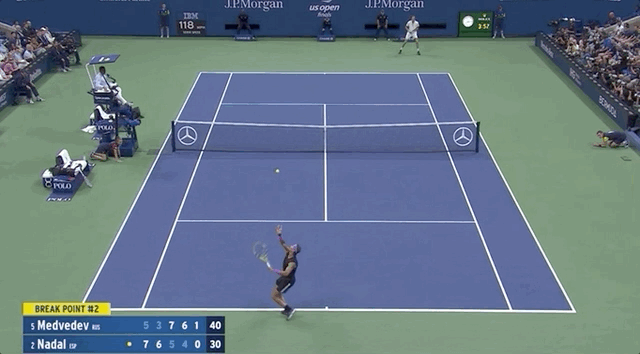 Deuce. Nadal lands 118mph T first serve. Medvedev can only float the ball back and Nadal looks to finish the point with a pretty straightforward forehand volley. Rafa misses badly into the tramlines. AD Medvedev, another BP. Nadal a little hesitant to move forward after hitting the serve, and also seemed caught in two minds between hitting a drop volley or a deep volley.

AD Medvedev (BP). Time violation Nadal, 2nd serve. Rafa plays a clever 2nd serve, safe and central but not giving Medvedev an angle to work with. The Russian can only hit a short backhand reply. Nadal hits the forehand he was trying to hit at 15-30, forcing an error from Medvedev. Once again, clutch:👇
Deuce. This was really the only point in the game where Medvedev faltered. Rafa hits a pretty central 116mph 1st serve, and Medvedev responds with a good, deep backhand return. Nadal makes a similar mistake as the 15-30 point, running around his backhand and dropping a cross court forehand short. Medvedev takes control with his forehand once again, but misses the final volley.

AD Nadal, game point. Un-returnable 121mph (T) 1st serve. Rafa holds.
It's hard to overstate how influential those three break point saves were for Nadal's eventual win. Medvedev entered the 5th set as the better player, with all the momentum. Nadal successfully halted that runaway Russian train by holding for 1-1. Each BP save in that game featured Nadal winning the point with aggressive net rushing or forehands. There was probably very little Medvedev could have done differently on each one.
—
1*-1. Medvedev holds to 30. The 1st serves, that he lands, clock in at 124mph, 123mph, 121mph, 125mph (his avg. for the match was 118mph). He serves and volleys twice and wins both points. A borderline unplayable game from Medvedev, with his serve and volley for 30-15 in particular, a piece of genius:👇
— This is just straight up too good from Medvedev. Nadal hits a good 1st serve return, off a very good body serve, with the Spaniard using his more aggressive return position (talked about below). Medvedev is forced to play a tough volley, split-stepping well before the service line because of how early Nadal takes the return, but deals with it beautifully.
Medvedev won the game easily, but there was one important signal from his opponent. Nadal, since the middle of the 4th set, in an effort to make Medvedev's 2nd shot, post-serve, less comfortable (whether it was a volley or a groundstroke), had started stepping in on 1st serve returns. Here's a comparison between his set one 1st serve return position (very deep), and his more aggressive set 5 position (he also used this sporadically in set 2 and at the start of set 3, but reverted to a deeper position once he lost the break in set 3):👇
— The set 5 position gives Medvedev far less time to either: serve and volley (he would have had to hit this particular volley around the service line if he had approached after the serve), or hit his 1-2 baseline punch. As you see here he rushes himself into a backhand error in the set 5 example. Medvedev's avg. backhand speed increased by 7mph after he broke back for 3-3 in the 3rd set (the forehand avg also went up by 3mph, but Med's preferred 2nd shot is, unusually, his backhand). As such, Rafa had to find a way to make his opponents 1-2 punches less routine.
Nadal made this change in set 4, but it didn't come off in the face of superb Medvedev serving and serve and volley. That 1st point, at 1-1 in set 5, is the first example of it starting to make inroads (and would become very important a couple of games later at 2-2).
—
2-1*. Nadal serving, holds to 15. At the change of ends prior to this game, Medvedev received some brief leg treatment (for what looked like cramps). The Russian, for what seemed like the first time since set 2, offered up two relatively soft errors in a single Nadal service game. The first, at the time quite subtle, signs of Medvedev's movement fading a bit.
—
2*-2. Medvedev serving. 15-0 with a 128mph T ace (his fastest serve of the match). 30-0 with Nadal forehand unforced error. 40-0 with Nadal forehand unforced error.

Medvedev 40-0 up, serving bombs. But this is where it all changed:

40-0. Nadal gets to 40-15 after a Medvedev forehand unforced error. Rafa put a 1st serve (124mph) return in play deep from his adjusted, aggressive serve position.

40-15. Nadal gets to 40-30 with another good 1st serve return, landing deep, setting up a pretty neutral rally. Rafa starts using the slice again and coaxes a backhand error from Medvedev who looked tired bending his legs down to the low ball👇
40-30. Nadal gets to deuce with another aggressive 1st serve return, his third in a row, off a 126mph Medvedev serve. This return rushed Medvedev into an error. Russian looking tired footwork and leg-bend-wise on his backhand side in the last two points👇
Deuce. Medvedev finally misses a first serve and Nadal brings up a BP, working low slices to the Russian's backhand again.👇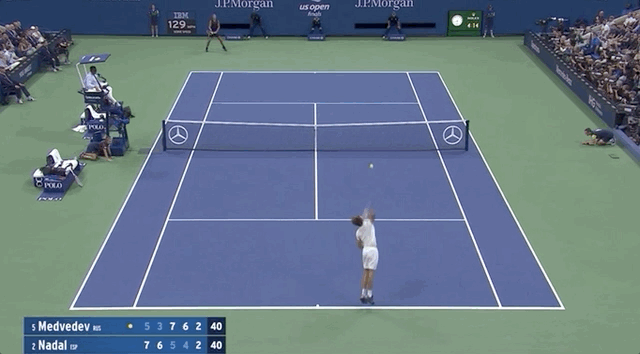 AD Nadal (BP). Medvedev responds with a 126mph ace out wide. Phenomenal.

Deuce. Medvedev 2nd serve. Nadal good aggressive return opens up court space. Medvedev hits a tired backhand into the net, trying to go for too much.

AD Nadal (BP). Nadal hits another aggressive 1st serve return (off a 124mph wide serve) rewarding the Spaniard with a neutral rally. One of Nadal's more proactive BP's he plays all night, finishing with a backhand winner to take a 3*-2 lead.

Nadal's returning in that game was superlative. I'm not convinced he made four, aggressive 1st serve returns like he did at 2-2 in the 5th, in a single previous Medvedev service game. And he did so in the face of some of the Russian's biggest serving. These returns were key because they, for the first time since early in the 4th set, negated Medvedev's serving and positional advantage, that the Russian had capitalised on so effectively with 1-2 punches and serve & volley. As soon as Nadal had a regular rally opening, he could exploit Medvedev's tired backhand leg-bend on the low balls.

An example of a player raising their game when it mattered most.
—
2-3*. Nadal serving. Holds to 15 with big 1st serves and serve and volley.
—
2*-4. Medvedev serving. Russian gets to 30-0.

30-0. Nadal gets to 30-15 on the back of another aggressive 1st serve return.

30-15. Nadal gets to 30-0 (after a Medvedev 2nd serve) thanks to more slices to the Medvedev backhand. Again Meddy makes a tired error off that wing.

30-30. Nadal gets to 30-40 with a miracle return lob (off a wide Medvedev 1st serve) that foils Medvedev's attempt at serve and volley. Rafa hits a brilliant drop shot winner to finish the point.

30-40 (BP). Nadal converts the break (for 5*-2) with another return lob off a Medvedev 1st serve (T). Medvedev misses a smash.
Once again, Nadal made 1st serve returns, on 3 out of the last 4 points. All 3 with the more aggressive return position. Importantly, on the 30-30 point, that closer to the baseline return position enabled Nadal to cut off what was a great angled serve by Medvedev. Had he been using a more defensive, deeper position, that serve would either have been un-returnable, or Nadal would have had to play a lob from further back (likely either giving Medvedev a volley or making the lob itself harder):👇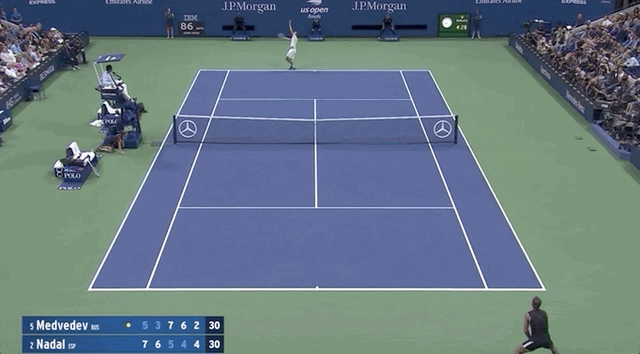 ---
—
In the end, that double break of serve was very much needed for Nadal. With the Spaniard losing one of his breaks (at 5*-2) while serving for the championship, to then secure the title two games later at 5*-4.
Rafa's return performance at 2*-2, and again at 2*-4, seemed to attract remarkably little attention from commentators or analysts at the time. Especially given that Medvedev served many of his biggest deliveries of the match on those crucial points. But those Nadal returns, by way of the more aggressive return position, ended up being vital to the Spaniard's championship.
It's easy to forget that Medvedev had all the momentum starting the 5th set. That series of 6 games from Nadal, from 1-0* to 2-4*, came very much against the run of play. It was an example of a champion standing up to a whacking wave of pressure, in to which most mortals would have been swept, and somehow reversing the flow.
Big match play at its finest.
📊Medvedev's 1st serve points won in the 5th set was its lowest of any set (56% compared to his set 1-4 avg of 69%), despite featuring the Russian's fastest, avg and one-off, serve speeds since set 1.
Between 2-1* and 2-5* in the 5th, Nadal won more 1st serve return points than Medvedev won 1st serve points.
—
We all know how the rest of the set played out, but here's a quick recap:
Nadal double faults the first of his breaks away while serving for the title at 5*-2. Both guys look exhausted at this point.

Medvedev saves two championship points at 3*-5 with what can only be described as balls of steel (two 1st serves: one 1-2 punch backhand winner, one ace).

Nadal saves another break point, while serving for the title for a 2nd time at 5*-4, with a huge forehand cross court on the back of a 2nd serve (at 30-40).

An un-returnable Nadal 1st serve, at AD, secures him the title.
For the whole recap of the match, here's the Racquet Recap from Sunday.
And here are the US Open's official extended highlights.
---
I hope you've enjoyed this slightly different piece of Racquet analysis.

Matt ✌️
---
GAME, SET, MATCH 👋
---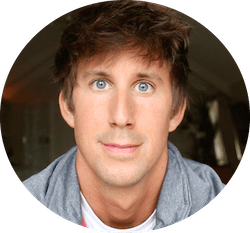 — The Racquet is created, and written, by Matt.
— You can find me on Twitter here, and Instagram here.
See you later today for some news.